the ideal mix between perfect fit and trendy style
Discover the Part Two collection
At Part Two, a resolutely feminine brand, the elegance of bohemian-inspired elements is combined with classic lines from masculine couture. They love color, but they also have a thing for neutral tones. Designing is a discipline they master perfectly and they are convinced to achieve the most incredible prints. Their style leaves no room for doubt, and they love outfits that can be worn casual or dressed up. Relaxed femininity is their watchword. By wearing Part Two, it is possible to have a look that is both classic and modern, a discreet look imbued with self-confidence, which truly characterizes the Part Two style.
Behind the brand
It's very simple: they design clothes with a Nordic touch for real women living real lives all over the world.
At Part Two, they understand today's women and they create collections that reflect their lifestyle, personality and individuality. They are proud to be a brand that enhances the beauty and self-confidence of every woman, offering clothing that combines quality, comfort and style.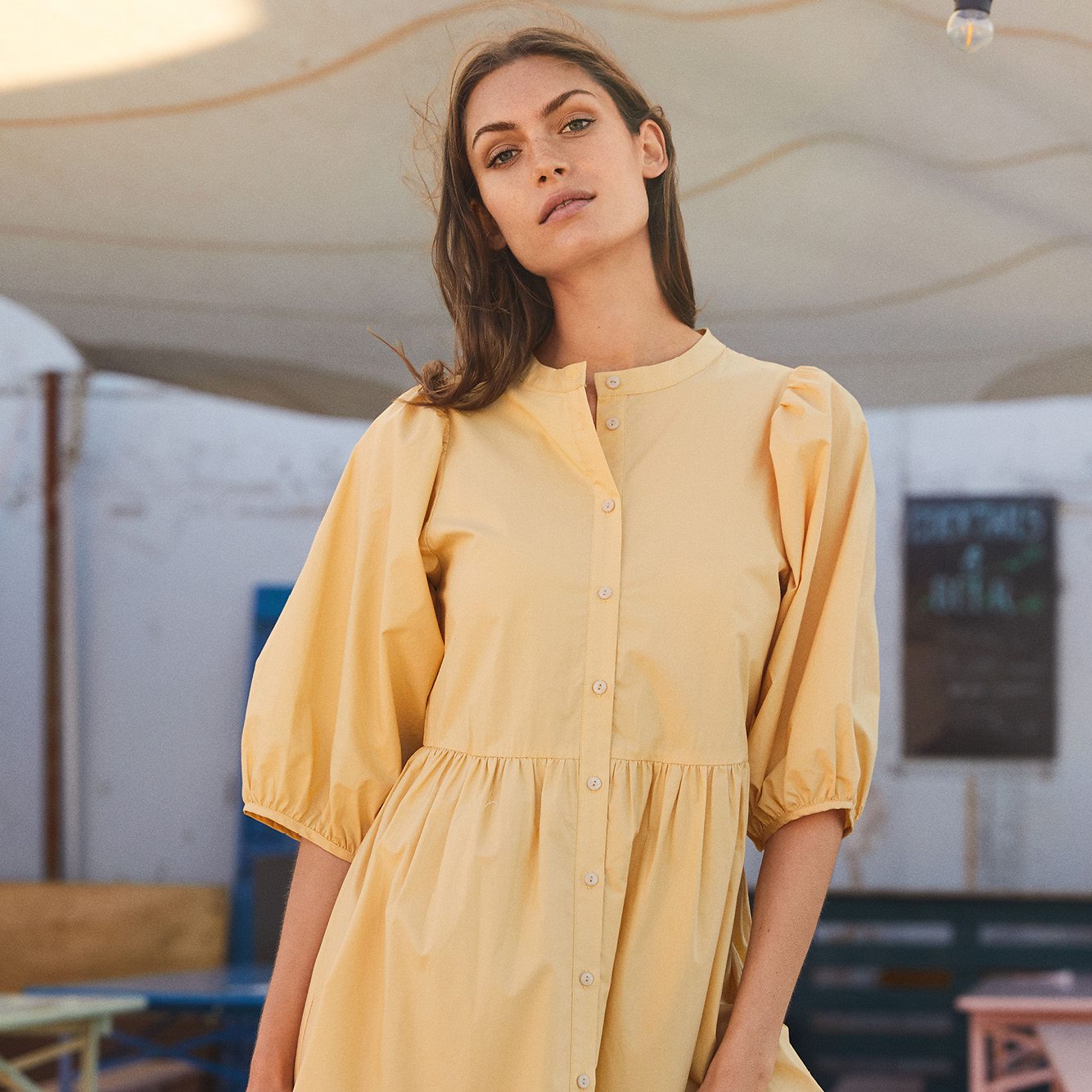 THE NORDIC DESIGN TRADITION
Since its inception, the iconic Scandinavian design tradition has inspired our designers and formed the basis of our design philosophy. In 1986 we introduced a classic look encouraging women to dress beautifully and comfortably, reflecting an active and healthy lifestyle. From the start, the brand was very successful.
With over 30 years of experience, we continue to create high quality, timeless yet modern collections for real women who live real lives. We firmly believe that the real success of Part Two lies in our mission:
Be dedicated to the new while remaining true to the past.
Modern & timeless design
A perfect design should ignite your emotions and feelings at the first sight. Our mission is to create fashionable, timeless items, season after season, that your wardrobe will thank you for. It's been our quest since 1986 and it remains at the heart of everything we do today.
Our Design Philosophy - Part Two creates timeless, authentic styles that offer casual comfort and a modern feminine look. The collections offer credible quality expressed through great attention to design, exceptional cuts, richness in fabrics and true craftsmanship.
Authentic craftsmanship, exceptional fit
No matter what design we create, our relentless quest for the best fabric remains unchanged, and we believe great design is all about the perfect balance between look and feel. Our ambition is to manufacture garments of impeccable quality and always offer real value. We design clothes for real women, and we believe that every woman deserves an exceptional fit. This important mantra deeply influences the way we design clothes, and that's why we place great importance on the construction of each item.
FAQ PART TWO
They believe in authenticity and honesty. They know that fit is a style's best feature, so they design essential pieces that will last for years, with the ambition to find the best qualities. From their headquarters in the heart of Copenhagen, they act both locally and internationally. They love their city and it inspires them on a daily basis, but they also enjoy working around the world, seeking inspiration in New York, selecting qualities in Italy and producing in Europe and Asia.
Interview
We always encourage you to consult the care label for specific advice. However, we also recommend that you follow these 7 simple rules - they're good for both your clothes and the planet:
Don't wash your clothes too often.
In case of stains on your garment, use a recommended stain remover.
Always wash at the lowest recommended temperature.
Always wash your clothes inside out.
Always close the zipper and buttons before washing.
Do not use fabric softener.
Avoid using the dryer.
... And we also have an opinion on the 3 types of washing:
We take care of our products
HAND WASHING
Hand washing isn't always the best way to wash your clothes. Today's washing machines have very efficient programs that leave even the most delicate fabrics looking their best after washing - so that's usually our recommendation. Machine washing is also more environmentally friendly, as water consumption is much reduced compared to hand washing. If you are hand washing, use warm or cold water and do not soak, wring or wring your clothes. Use a special detergent for hand washing and be sure to rinse well.
We take care of our products
MACHINE WASH
We almost always recommend machine washing - and you should choose the temperature shown on the care label. With today's enzymatic detergents, you can wash at fairly low temperatures (30-40°C) and still get clean clothes (note that there are different recommendations for bed linen, towels, underwear, etc).
Machine washing is the best option if you want to wash your clothes in an environmentally friendly way. Always make sure to fill the machine and choose environmentally friendly programs if possible.
We take care of our products
DRY CLEANING
Avoid dry cleaning if possible, as it is harmful to the environment due to the chemicals used in the process. However, dry cleaning is the appropriate cleaning method for delicate clothes or stained fabrics that cannot be cleaned with water-based methods. Therefore, we always recommend dry cleaning for our wool outerwear, structured jackets and leather garments.
We advise you to follow the steps below when washing your Part Two viscose garment - it will keep it looking great for a long time, and we hope you keep it for seasons to come.
Viscose care
WASHING
Viscose is very fragile, especially when wet. Therefore, we recommend a gentle machine wash program. - Choose a delicate washing program at 20-30°C and fill the machine with other clothes to avoid damaging it. Plus, you'll save water when refilling your machine.
The way viscose reacts to water can change the feel and shape of the fabric, but don't worry! Once dry and ironed, your viscose garment will regain its original feel and shape. - If you prefer hand washing, please do not soak, wring or twist the garment. Use cold to lukewarm water (max. 20-30°C).
Viscose care
DRYING AND IRONING
Drying on a hanger is the most suitable drying method for a viscose garment. - We recommend that you gently iron your viscose garment to restore its shape. In rare cases and due to its texture, viscose should be ironed when slightly damp. ...and always consult the care label for specific advice.
How to Treat YOUR BLAZER AND SUIT PANTS
We recommend following the steps below when cleaning your blazer and suit pants from Part Two - it will keep them looking great for a long time, and we hope you keep them for seasons to come.
Blazer Care
BLAZER CLEANING
Always have your blazer dry cleaned, unless otherwise specified on the care label.
After use, air your blazer to keep it fresh, or add fabric spray for a pleasant scent.
When you're not wearing your blazer, we recommend that you always hang it on a suitable blazer/coat hanger to keep it upright.
Care of suit pants
WASHING SUIT PANTS
Unless otherwise indicated on the care label, machine wash your garment on a delicate program (20-30°C).
Always use a mild detergent, preferably liquid.
The garment should be washed gently.
You can also have your suit pants dry cleaned. If you want to maintain a perfect color match with the blazer in the suit, have the trousers cleaned at the same time as the blazer.
Blazer Care
DRYING AND IRONING
Hang your slightly damp pants - this will straighten them as they dry.
We recommend using a handheld steamer rather than ironing. The steamer is a gentler way to treat your garment, and it easily straightens your clothes. However, if you must iron your suit trousers, we recommend using a damp cloth and ironing very gently.
We recommend following the steps below when washing your Part Two mesh - it will keep it looking great for a long time, and we hope you keep it for seasons to come. However, we recommend that you wash your mesh as little as possible. Instead, air out your mesh, and a good tip is to always wear a t-shirt under your mesh – it makes washing so much easier.
Mesh care
WASHING
We advise you to machine wash your mesh - unless otherwise indicated on the care label.
Always wash on a specific program for wool - cold or up to 30°C.
Always use wool detergent - and only use a minimal amount.
Be sure to use a gentle spin - maximum up to 1000.
Always dry your mesh flat to preserve its shape.
Choose a washing program for wool at 20-30°C and load the machine with other clothes to avoid damage. At the same time, it's good for the environment to refill your machine with every wash.
If you prefer hand washing, please follow these guidelines:
Hand wash in cold or lukewarm water (20°C).
Always use a special detergent for wool, preferably liquid.
Wash gently without stretching the mesh.
Do not leave the sweater too long in the water.
Rinse gently and don't twist your mesh - this could ruin its shape.
Carefully wrap your mesh in a towel and press gently to remove excess water before drying.
DRYING
We recommend that you dry your garment flat on a towel and on a flat surface (table, bed, etc.). Do not pull on the garment. Shape your mesh into the shape you want it to have when dry.
IRONING
Ironing is not necessary if washing and drying have been carried out correctly.
However, if you need to iron your sweater, take all the necessary precautions:
Iron very gently on the reverse side.
Do not press/crush the mesh.
Use a damp cloth.
To preserve your mesh, always store it flat and not on a hanger, because that way it will keep its shape for a very long time.
If you have a sweater where you observe the appearance of pilling, which is typical of wool fibers, you can use a cashmere brush to remove it or simply remove it when the garment is still damp. Another tip is to add a few cedar balls to your closet when storing your woolen clothes for the season, as this will prevent moths and leave your sweaters feeling fresh and nice.
We recommend following the steps below when washing your Part Two linen garment - it will keep it looking great for a long time, and we hope you keep it for seasons to come.
linen care
WASHING
Linen is a delicate fabric, which is why we recommend a delicate machine wash program.
Choose a delicate wash program of 20° to 30°C and load the machine with other clothes to avoid damage. Plus, you'll save water when refilling your machine.
The way linen reacts to water can change the feel and shape of the fabric, but don't worry! Once dry and lightly ironed, your linen garment will regain its original feel and shape.
NEVER use enzymatic detergent when washing linen - it will ruin the characteristics of the fabric.
linen care
DRYING
Hanger drying is the most appropriate method for a linen garment.
IRONING
We recommend lightly ironing your linen garment to restore its shape - but note that the linen texture will still have the slightly wrinkled appearance.
Adjustments
Ready-to-wear women's linens are carefully designed and manufactured to fit a wide range of body shapes and sizes. The term "prêt-à-porter" literally means "ready to wear", which means that the garments are prepared to be worn without requiring many adjustments.
When a garment is created in ready-to-wear, designers and manufacturers take into account the average measurements and proportions of women in order to produce standard sizes that fit the majority of customers. They rely on anthropometric studies and statistical data to determine the most common measurements for each size of clothing.
Using these standard measurements, ready-to-wear garments are designed to best fit different female figures. Designers also take into account variations in body shape, such as waist, hips, chest and shoulders, to create fits that flatter and enhance the figure.
In addition, modern manufacturing techniques and flexible materials allow ready-to-wear garments to adapt slightly to individual shapes. Stretchy fabrics and design details such as strategically placed darts, pleats and yokes help create a flattering fit that accommodates different body types.
However, it is important to note that even with well-fitting ready-to-wear garments, some people may require minor adjustments to achieve a perfectly personalized fit. This is why some brands offer tailor-made fitting services to meet the specific needs of their customers.
In summary, the principle of ready-to-wear women's linen is to offer clothes designed to adapt to a wide variety of female morphologies, using standardized measurements and cuts. Although very few adjustments are required, it is possible to achieve a more personalized fit by opting for custom fitting services.
To design high-end lingerie, it is not enough to create elegant sets with the perfect fit. We must also make sustainable and responsible choices, and invest in the best quality materials. We are very proud to be able to promise our customers creations that will accompany them throughout their lives. This commitment is like a challenge that we have launched to ourselves in order to continue to improve ourselves every day.
New collections