Empty collection
This collection does not contain any products.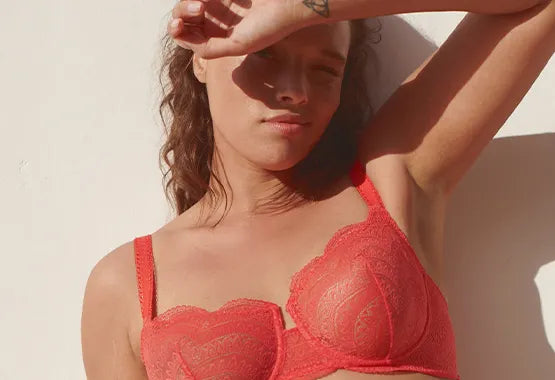 SOPHISTICATION, INNOVATION AND SENSUALITY: an experience
Discover the Simone Pérèle collection
Simon Pérèle lingerie embodies timeless elegance and refined craftsmanship. Each piece is meticulously crafted to provide every woman with a luxurious and comfortable experience. Their design is distinguished by delicate lines, perfectly fitted cuts and exquisite details that captivate the eye. By combining high quality fabrics with flawless expertise, Simon Pérèle manages to create lingerie sets that highlight the natural beauty of each woman. Their bras are designed to provide optimal support without sacrificing style, while their briefs and thongs delicately envelop feminine curves with irresistible softness.
good in body
Simon Pérèle lingerie is renowned for its exceptional ability to customize its creations to suit all body types. Whether you are small or tall, round or thin, Simon Pérèle understands that every woman is unique and deserves to feel beautiful and comfortable in her lingerie.
Personalized lingerie to enhance each silhouette
Their commitment to diversity and inclusiveness is reflected in their collections, where each piece is meticulously crafted to fit and enhance different body shapes. From bras with specific cuts to ensure optimal support, to panties and bottoms in various sizes and cuts, Simon Pérèle offers a range of choices that meet the specific needs of each woman. With their expertise and attention to detail, Simon Pérèle makes made-to-measure lingerie a reality, allowing each woman to find the perfect bra or panty for her figure and personality.
High quality materials
Simon Pérèle lingerie is distinguished by the use of exquisite materials and its constant search for durability. Each piece is carefully crafted using the highest quality fabrics, selected for their softness, comfort and durability. From delicate laces to luxurious fabrics, Simon Pérèle emphasizes the quality and durability of his creations.
The materials used by Simon Pérèle are chosen with particular attention, guaranteeing each piece an extended lifespan. Their exceptional craftsmanship translates into precise stitching and impeccable finishes, ensuring increased resistance to daily wear and tear. Thus, Simon Pérèle lingerie becomes a long-term investment, allowing each woman to enjoy her sets for many years.
Style & durability
By favoring quality and sustainability, Simon Pérèle also contributes to a more environmentally friendly approach. By creating pieces that stand the test of time, they reduce the environmental impact associated with excessive consumption and encourage more responsible fashion.
With Simon Pérèle, lingerie becomes a symbol of elegance and longevity, allowing every woman to feel both gorgeous and confident, while contributing to a more sustainable lifestyle.
Interview
LINGERIE
Machine wash: yes, it is possible! Provided you follow our little advice
1 - Mix white and color, that wouldn't have occurred to you, would it? Well you are right! This will allow you to maintain vibrant colors for longer.
2 - Now that the products are sorted, put them in your washing net , to avoid addicts with other clothes. No washing net? Don't panic, we take a pillowcase and you're done!
3 - We often forget it but you have to close the fasteners of your bras. This will prevent you from snagging delicate materials such as lace.
4 - On the laundry side, we start with products for delicate laundry and no fabric softener. (it risks remaining in the fibers and affecting the elasticity of the products).
5 - Opt for the delicate mode of your washing machine (30° maximum) and a spin cycle at 800 rpm maximum.
6 - For drying: we do it flat, no dryer of course.
Hand wash: recommended
If you have a little time or opt for hand washing, don't start without reading the tips and tricks below:
1 - A few minutes in cold water and off you go, take out your lingerie to prevent the fiber from getting damaged or softening.
2 - When spinning, do not twist your lingerie but press it gently so that it retains its elasticity.
3 - Always use a mild soap , without rubbing.
4 - We opt for drying in the open air , always flat.
5 - If you wash hulls, do not bend them, this will damage them.
6 - Avoid bleach, it does not whiten but yellows the underwear.
JERSEYS
1 - Hand wash in warm soapy water after each use
2 - Do not soak too much to preserve your swimsuit as long as possible
3 - Do not twist the jersey at the risk of breaking the fibers
4 - No dry cleaning or ironing
5 - Let the jerseys drain and dry in the shade because the sun can discolor them

Storage at the end of the season: keep your swimsuit in your Simone Pérèle swim bag.
Ideally, you should wash lingerie after wearing it for a day. We strongly advise you to wash your lingerie by hand.
Delicate lace and embroidery will last longer if washed by hand. Fill a tub with lukewarm water (max. 30°C) and detergent, and immerse the lingerie in it several times.
Be sure to keep the lingerie moving. Do not twist it, do not rub it. Rinse it with lukewarm clear water (max. 30°C) until all the detergent is removed.
Never put the lingerie in the dryer, but let it dry hanging in the open air. Lingerie can be dried flat on a towel, or hung on a drying rack.
Always hang the bra in the middle so it can dry evenly. Never put lingerie on a heat source. Simply store the lingerie once completely dry.
Lingerie should not be ironed.
It is essential to carefully follow the care instructions on the label of the swimsuit. It is not recommended to wear a new swimsuit in a sauna or hot tub, as this could seriously damage the garment. It is recommended to use an old swimsuit instead. It is also important to avoid contact with chlorine and sunscreen.
After each use, rinse the swimsuit immediately with cold, clean water. For washing, use cold water and a mild liquid detergent suitable for delicate washes. It is crucial never to leave the swimsuit soaking overnight and not to wring it out. Never dry the swimsuit in the dryer, but rather hang it in the open air. You can dry it flat on a towel or hang it on a drying rack. It is important to store the swimsuit only when it is completely dry.
Please note that if the washing instructions on the care label are not followed, we will not be able to accept lingerie or swimwear as faulty items, even if they have been damaged in the wash.
To store your bras efficiently, be sure to close the hooks at the back and place them next to each other, straight and in the same direction. It is recommended to avoid folding and turning the cups inside out in order to preserve the elasticity of the fabrics and maintain their shape.
Over time, even top quality bras can lose their elasticity. It is therefore recommended that you replace your items every 6 to 12 months, depending on how often you wear them and how well they are cared for. Another tip is to alternate the use of your favorite bras to prolong their lifespan.
Adjustment
A properly fitted bra is distinguished by cups of the right size, which are large enough to comfortably contain and support the bust. The support band on the back should also be the right size and stay straight. The straps should fit appropriately, not dig into the shoulders and stay in place throughout the day.
To determine your bra band size, stand up straight and use a soft tape measure. Place the tape under your chest, making sure it is snug and close to the body.
Next, measure your bust size by taking the fullest part of your chest. To get a more accurate measurement, it is recommended to wear an unpadded bra (avoid push-up type bras).
Once you have these measurements, consult the size chart available on our website. Specific sizing information can be found on the page of the item you wish to purchase. Please note that size conversions may vary slightly depending on style and fit preference.
If you have any doubts or questions, do not hesitate to come to the store where our specialists will be there to advise you and help you choose the right size.
When choosing a bra with a waist size that is too large, the mistake often made is to tighten the straps as much as possible. By doing this, your bra goes up at the back, because your straps are much too tight. As a result, more pressure is put on your shoulders, which creates discomfort.
It could be a sign that your bra is not the right size for you. It would therefore be recommended to go to the store for an accurate measurement, in order to find the size that suits you perfectly. By visiting our store, we can offer you a personalized fit to find the perfect bra for you.
If your straps are constantly slipping off your shoulders, your shoulders may not be wide enough for your bra straps. It's also possible that your bra doesn't fit properly in terms of size.
One solution to this would be to opt for bras with a "chimney" type back and go to a store for a proper fit.
Materials
To design high-end lingerie, it is not enough to create elegant sets with the perfect fit. We must also make sustainable and responsible choices, and invest in the best quality materials. We are very proud to be able to promise our customers creations that will accompany them throughout their lives. This commitment is like a challenge that we have launched to ourselves in order to continue to improve ourselves every day.
New collections