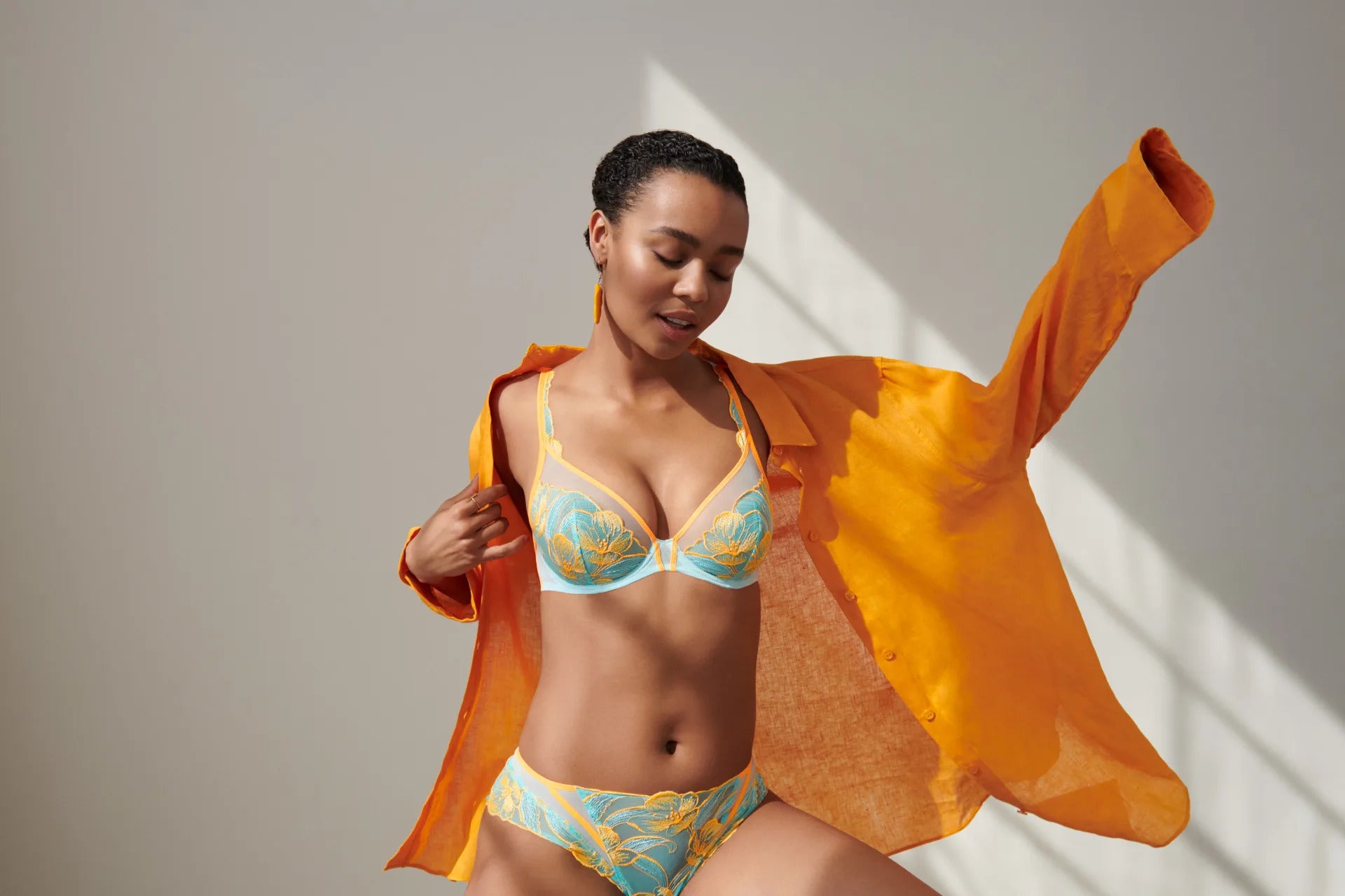 the ideal mix between perfect fit and trendy style
Discover the Marie Jo collection
Marie Jo inspires lingerie lovers like you with a comfortable fit and models that capitalize on trends. You'll find sets for every occasion, whether it's fashionable, sexy or colorful pieces, or icons with proven fit and style.
Prefer a more rebellious look? The collection also includes more extravagant sets that you'll recognize in daring urban looks, bold prints and innovative styles. In the past, these models belonged to the Marie Jo L'Aventure sub-brand, which was merged with Marie Jo to create a strong and coherent brand story.
Take a look at our collection and meet our team of stylists.
Behind the brand
We are constantly improving the cut of your bras and panties in order to adapt them to the latest trends. You will find a wide range of perfectly adjusted sets, adapted to your morphology, your appearance and your preferences.
Lingerie is our passion. We know the power of a perfectly tailored set.
Our roots
Quality and the perfect fit are in Marie Jo's DNA. Our story began with the creation of a corsetry workshop over 100 years ago. For generations, we have passed on our know-how and our craftsmanship, while always seeking to innovate. Marie Jo surprises you season after season with its trendiest and most original lingerie collections: the elegant Marie Jo collection and its more daring little sister Marie Jo L'Aventure. We don't stop at lingerie – since 2018 we've been creating Marie Jo swimwear pieces with our much-loved fits.
Let yourself be surprised by our unique looks, our refined details and our varied styles.
Our creative team thinks differently and pushes the boundaries of lingerie and swimwear. We reinterpret lace, combine bold prints, use unusual fabrics and create original combinations with refined details. Our creations are anything but boring.
We understand that not all styles are suitable for all breast types. That's why we offer a wide selection of bras, panties, bikini tops and one-piece swimsuits. Our goal is for every woman to find the style that gives her the desired effect and enhances her figure.
Feel a comfortable elegance in her lingerie
Every woman is unique, with her own preferences and styles. Some love high heels, others never go out without a bold lipstick, while some really look like themselves in jeans and sneakers. However, we all have one thing in common: we start our day by putting on lingerie. Wearing elegant lingerie gives you that feeling of sophistication and confidence the moment you put it on. This prepares you to face the challenges of the day with confidence.
At Marie Jo, we understand the importance of lingerie that makes you feel both comfortable and stylish. We want to put a smile on your face as soon as you leave the house, ensuring you get the perfect fit and a polished look.
For every occasion and every mood
A busy day at work, a shopping trip with friends or a romantic dinner? In our collections you will find a variety of carefully selected lingerie sets for every occasion. Our comfortable bra with foam cups and our microfiber briefs are discreet under your office attire. But for a party or a date, just swap out your smooth everyday bra for a bold lace design or a triangle bra with fashionable pants. Marie Jo offers lingerie adapted to all moods and every moment of the day.
Interview
With Marie Jo products, the maintenance of lingerie and swimwear is essential. Special care should be taken when washing fine lingerie and swimwear. If you follow the following care instructions, you'll keep your lingerie looking great longer. Always follow the care instructions indicated on the label of your lingerie.
Ideally, you should wash lingerie after wearing it for a day. We strongly advise you to wash your lingerie by hand.
Delicate lace and embroidery will last longer if washed by hand. Fill a tub with lukewarm water (max. 30°C) and detergent, and immerse the lingerie in it several times.
Be sure to keep the lingerie moving. Do not twist it, do not rub it. Rinse it with lukewarm clear water (max. 30°C) until all the detergent is removed.
Never put the lingerie in the dryer, but let it dry hanging in the open air. Lingerie can be dried flat on a towel, or hung on a drying rack.
Always hang the bra in the middle so it can dry evenly. Never put lingerie on a heat source. Simply store the lingerie once completely dry.
Lingerie should not be ironed.
Over time, even top quality bras can lose their elasticity. It is therefore recommended that you replace your items every 6 to 12 months, depending on how often you wear them and how well they are cared for. Another tip is to alternate the use of your favorite bras to prolong their lifespan.
To store your bras efficiently, be sure to close the hooks at the back and place them next to each other, straight and in the same direction. It is recommended to avoid folding and turning the cups inside out in order to preserve the elasticity of the fabrics and maintain their shape.
Adjustments
A properly fitted bra is distinguished by cups of the right size, which are large enough to comfortably contain and support the bust. The support band on the back should also be the right size and stay straight. The straps should fit appropriately, not dig into the shoulders and stay in place throughout the day.
A properly fitted bra is distinguished by cups of the right size, which are large enough to comfortably contain and support the bust. The support band on the back should also be the right size and stay straight. The straps should fit appropriately, not dig into the shoulders and stay in place throughout the day.
When choosing a bra with a waist size that is too large, the mistake often made is to tighten the straps as much as possible. By doing this, your bra goes up at the back, because your straps are much too tight. As a result, more pressure is put on your shoulders, which creates discomfort.
It could be a sign that your bra is not the right size for you. It would therefore be recommended to go to the store for an accurate measurement, in order to find the size that suits you perfectly. By visiting our store, we can offer you a personalized fit to find the perfect bra for you.
If your straps are constantly slipping off your shoulders, your shoulders may not be wide enough for your bra straps. It's also possible that your bra doesn't fit properly in terms of size.
One solution to this would be to opt for bras with a "chimney" type back and go to a store for a proper fit.
Materials
To design high-end lingerie, it is not enough to create elegant sets with the perfect fit. We must also make sustainable and responsible choices, and invest in the best quality materials. We are very proud to be able to promise our customers creations that will accompany them throughout their lives. This commitment is like a challenge that we have launched to ourselves in order to continue to improve ourselves every day.
New collections