Your destination of choice in the Laurentians for over 35 years
Welcome to Romeo and Juliet!
We are recognized for our exceptional quality products and our personalized and professional service. Our store has become an essential reference for women looking for exquisite lingerie and a perfect fit.
With us, every woman finds her happiness, because we dress all sizes and silhouettes. Our collection includes top quality premium products, mainly imports and internationally renowned brands. We are proud to offer you a harmonious blend of comfort, quality and elegance, because we believe that every woman deserves to feel beautiful and confident.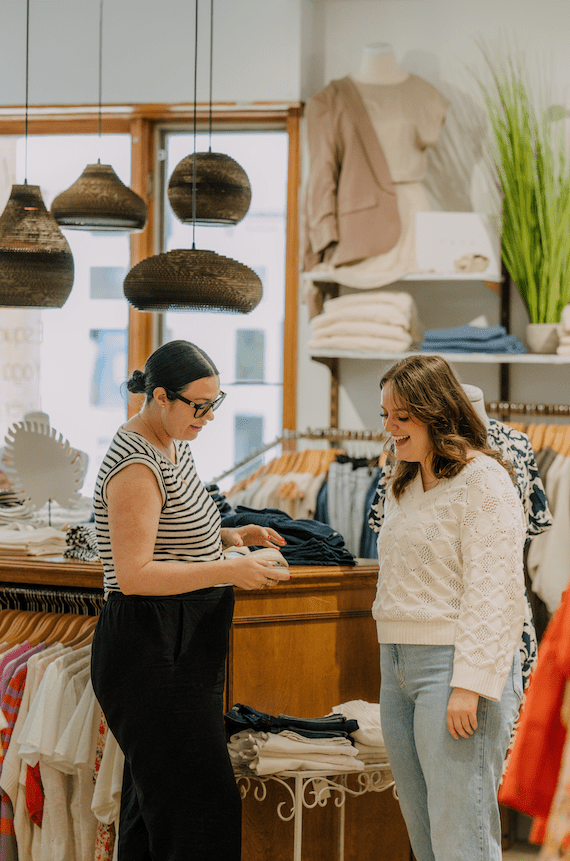 an incomparable experience
Our team
At the heart of our success is a dedicated and passionate team. Each member of our team has been trained by our doyenne corsetière and proudly wears the title of adjustment technician. We understand the importance of a well-fitting bra and we do everything we can to provide you with a unique experience at Romeo and Juliet. As soon as you arrive, one of our qualified technicians will be at your disposal from start to finish, to meet all your needs.
lingerie is a way to express your femininity at any age
Beauty has no age
We know that 80% of women wear the wrong size bra, which can affect their health, comfort and posture. That's why we emphasize the importance of fit. Our experienced technicians are here to help you find the size and style of bra that suits you best, for optimal support and a beautiful silhouette.
As a store that cares about the well-being of all women, we also offer post-mastectomy products. We understand the unique needs of women who have had a mastectomy, which is why we offer a range of partial and full external breast prostheses, as well as adapted bras and swimsuits. Our goal is to help you regain confidence and femininity, by offering you quality products and warm support.
At Roméo et Juliette, we are truly passionate about lingerie. We believe in its power to transform, inspire and celebrate the beauty of every woman. Whether you are looking for a sensual piece of lingerie, a comfortable everyday bra or products adapted to your specific needs, we are here to guide you with expertise and kindness.
We invite you to discover the universe of Lingerie Roméo et Juliette and to live an unforgettable experience. Because you deserve the best, come visit us and let us help you find the lingerie that will make you feel beautiful, confident and perfectly yourself.